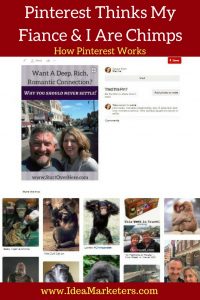 Pinterest is a smart social media platform with an ability to look at images and try to determine what they are about. It then attempts to show recommend images based on visitor interests, keywords on the pin, and the image on the pin. Much of the time it gets it right. Unfortunately, sometimes it can be completely off base.
Imagine my surprise when I had to tell my fiance that Pinterest thought he was a chimp!
Watch this short video to find out how Pinterest determines what images are about.
If you'd like to delegate your social media marketing, let's chat. Hop on my calendar for a free 20-minute consult.